7 for 6: A Strong Start
|
| Thanks to smothering defense and some suprising contributions, the Sixers are off to a 5-1 start | 
KAT Fight
It is no secret that Joel Embiid revels in trash talk. Despite saying before that season that he would avoid it in the future, it felt like a matter of time until he went back to his old ways. He went back in a big way last week against Minnesota, specifically Karl Anthony-Towns.
Thankfully no one was hurt and the two spent more time grappled together than throwing punches. (My favorite detail of this is Ben Simmons jumping on top of Towns after he had fallen to the ground and putting him in a choke hold to de-escalate this situation).
Both players were ejected; Embiid shadow-boxed and pumped the crowd up on his way out. But their exits were not the end of it all. Both Towns and Embiid took to social media.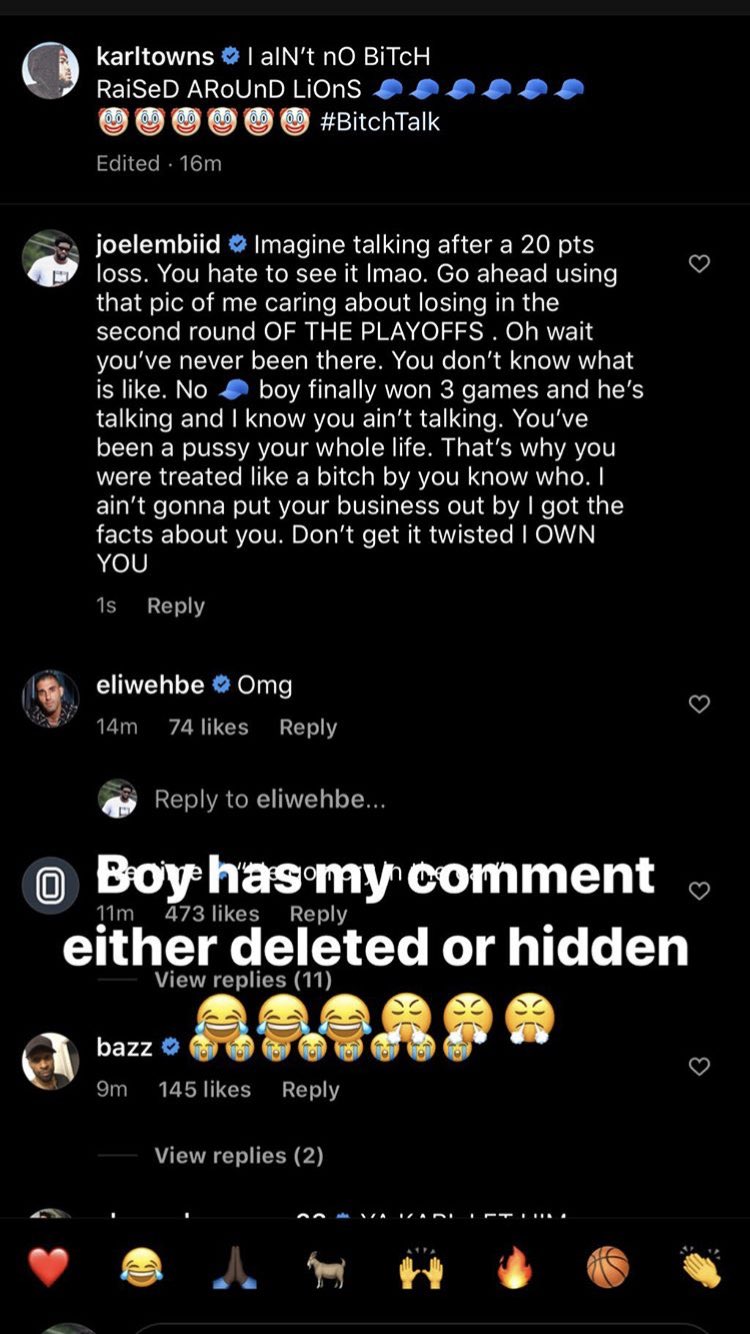 Embiid is no stranger to sparring on social media, but this took it to a new level. Ultimately the league suspended both Towns and Embiid for two games each, specifically citing that they had escalated the feud after the game. The teams play once more this season, March 24th in Minnesota. Circle the date on your calendars.
Embiid's Strong Play and His Emerging Rest Pattern
The optimist will say that Embiid's suspension is just load management. It's unplanned, but two less games that the big man has play during the regular season. Frankly he's earned a break; the Sixers are 5-1 largely thanks to the play of Embiid. His stats aren't quite as eye popping as last season. But he's been hugely efficient when it mattered. Take for example, the team's 105-103 win over Atlanta. He hit had 11 of his 36 points in the fourth quarter, sunk the game winning free throws, and oh yeah, he did this to John Collins
Ohhh boyyy look who's baaaaaack pic.twitter.com/afAhdZI5MA

— Chartisse (@SnowmanEmbiid) October 29, 2019
The Sixers need Embiid to be healthy for the playoffs. The best way to achieve that is to limit his regular season minutes with scheduled rest. In the context of a single game, that means fewer fourth quarter minutes in games that are out of hand (the Sixers were able to do that in the opener against Boston). Embiid is only averaging 25 minutes per game. Admittedly a small sample size due to the suspension and a missed game versus the Pistons due to a sparined ankle, but it would behoove the Sixers to keep his minutes down in general. That rest will pay off in a big way if it allows Embiid to be at his best for the postseason.
Defense is Absolutely Legit
The Sixers haven't won games as much as they have smothered their opponents. They are an absolute pain to play against. Right now they are top 10 in basic per game stats like steals (11.3, 1st), blocks (6.2, 5th), and rebounds (48.2, 6th). But they're also grading out well in advanced stats like Defense Rating (101.6, 6th), and Rebound Percentage (55%, 1st).
#Sixers coach Brett Brown: 'Defensively, I'd give (us) a high mark.'

— Tom Moore (@TomMoorePhilly) October 30, 2019
On offense, they are still a work in progress. They are average in terms of offensive efficiency (106.7, 15th) Effective Field Goal Percentage (52.4, 14th), and True Shooting (55.7, 16th). Their 3 point percentage is only 33%, good for 20th in the league. Part of this is philosiphy; as a team they take most of their shots near the rim because they are a so big and can bully their way to the basket. It's a good strategy for the team as presently constructed. And typically pace slows down and halfcourt offense becomes a lot more important in the playoffs.
But the outside shooting is conerning. The Sixers need everyone, namely Tobias Harris and Josh Richardson, to become efficient scorers if they want their offense to improve in a meaningful wy.
Matisse Thybulle Good and Bad
Brett Brown clearly likes Thybulle. He's usually one of the first couple of players off the bench. He is still very much a rookie that gets lost and struggles to create for himself. For the time being he is a work in progress on offense.
But the defense?  Matisse Thybulle plays defense. So far he is averaging 2.3 steals per game, good enough for 5th in the entire NBA.  He's only the 5th rookie since steals became an official stat to record 2+ in each of his first five career games.
The Sixers haven't had a wing who could defend like this since Covington, and Thybulle is probably more athletic. He fights through screens, which is a pleasant surprise since he only played in zone defense in college. To think he can get even better is very fun to think about.
Kork has Popped
It was a mild surprise when Furkan Korkmaz returned to the team this summer. He had struggled to make an impact in his first two seasons. But the upside to his shooting was always apparent. It seemed that he just needed the opprotunity and a green light to shoot. After the team's season opening win against the Celtics, Brett Brown said that he "needs to grow a bomber" from 3 point range to get the most out of his team. So far, Korkmaz has been exactly that. He's put together 3 straight games of dobule digit scoring, including the game winning shot against Portland on Saturday.
I don't konw if he will sustain his 40% from deep for the entire season, but it's apparent that anyone shooting so well opens up a lot of space and offense for the Sixers.
Rotation Still Shaking Out
The starting five is well defined and won't see any changes barring scheduled rest or an injury. But so far Brett Brown hasn't dipped very deeply into his bench. In order of their average minutes, the most used players off the bench are Furkan Korkmaz (19 minutes per game) Thybulle (18), Mike Scott (16), and James Ennis (. No one else is above 10 minutes per game. Trey Burke and Jonah Bolden have not played.
Brett Brown loves to stagger his minutes and he has clearly prioritized figuring that out before assessing the lower half of his bench. The result of that has meant two things; a lot of Al Horford at center when Embiid exits, and Josh Richardson receiving the backup point guard duties. Results have been mixed.
Horford has been everything that the team expected. He's smart, engaged on both ends, and knows raises the play of his teammates.
Richardson has had less success facilitating and bringing the ball up. He has a smooth game and can handle the ball well, but the natural instincts aren't quite there. There are flashes, like this cross court dish to Shake Milton. But Richardson is more comfortable taking his opponent off the dribble. For now, Brown wants him to learn this role. That has come at the expense of Trey Burke, who has not played this year, and Raul Neto. Neto has actually been quite good in his brief minutes. He was +13 during his 6 minute stretch in the win against Portland. I'd like to see more minutes from him, both to see what the team has in him, and to see if Richardson could excel more in an off-ball role.
Ben Simmons: Still Not Shooting
After hitting a three pointer in the pre-season, the hype surrounding Ben Simmons and his jumpshot peaked in a big way before the games started to matter. Disappointingly, he has not expanded his shooting range this season. Simmons hasn't attempted a shot beyond 14 feet from the basket, and is only 5/18 on shots between 5 and 9 feet. Simmons total reluctance to shoot from the outside remains, despite an offseason of Instagram training montages and, you know, verbally acknowledging that he needed to shoot more before the season began. It's frustrating to see Simmons' total disinterest in changing his approach. There's a chance that he changes his habits over the course of the season, but I wouldn't get my hopes up.
—
Stats courtesy of BasdketbalReference.com and NBA.com