Philly Fantasy Stock: Sam Bradford
|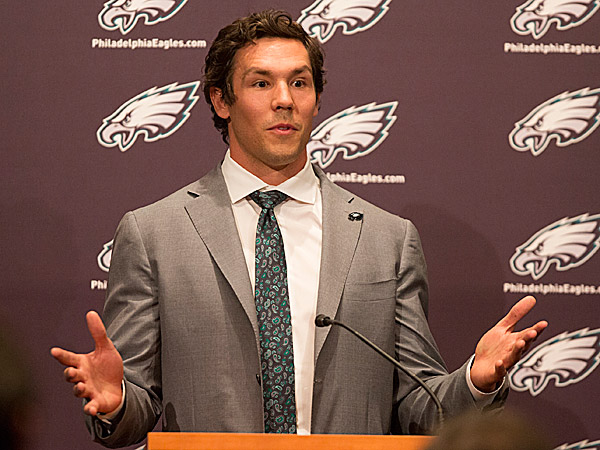 We are only a month or so away from Fantasy Football Draft Season, a time of the year where men and women take time to rank and evaluate the talent for the upcoming fantasy football season. We're going to take an in depth look at the new Eagles Quarterback, Sam Bradford.
Assuming that you are an Eagles fan, a first piece of advice is to be level headed and evaluate any Eagles player as if they were on any other team, opposed to favoring Philadelphia players so you can "root for your fantasy team and your favorite team" a mistake every owner has made. That being said, Sam Bradford is an interesting player to evaluate because his most recent 16 game season was in 2012, in which he had a 59.5% completion percentage, 21 Touchdowns, and 13 Interceptions. These statistics, despite being three years old, are impressive due to the lack luster offense surrounding him. Sam Bradford threw for 3,702 yards with Danny Amendola, Austin Pettis, Brandon Gibson, Lance Kendricks, and Steven Jackson as his supporting cast. He now for the first time in his career has legitimate weapons to throw the ball to, Nelson Agholor, Jordan Matthews, Darren Sproles, and Zach Ertz, as well as a reliable Demarco Murray to establish a run game and set up play action.
The biggest risk to drafting Sam Bradford is obviously his health. In 2013 and 2014 Bradford tore his ACL, resulting in him missing the majority of the 2013 season and all of the 2014 season. In 2011 he suffered a high ankle sprain which caused him to miss 5 games and throughout his college career he had multiple shoulder injuries causing him to miss 13 games. Injuries are unpredictable, but Bradford's track record makes him unreliable both in the NFL and in fantasy. The Eagles handled the injury risks by resigning Mark Sanchez, I suggest that if you draft Sam Bradford to be your starter you should follow the Eagles precedent and draft your own backup.
I have Sam Bradford as a third tier Quarterback, grouped in with Cam Newton, Jay Cutler, Joe Flacco, Ryan Tannehill, and Carson Palmer. None of these guys are sure fire starters in a 12 team fantasy league, but they could surprise you and come up big. This category has potential, everyone mentioned is just one factor away from being a Second Tier player and a definite starter, for Bradford that factor is his health and unpredictability.
If Bradford stays healthy then I believe he is an every week starter in a 12 team fantasy league, but the scare of drafting a player who could be on IR at any point in the season is just too overwhelming. In a standard league you could draft Bradford as early as the late 5th round or the 6th round (if you're confident and he has a good preseason), and if he's available in the 8th or 9th round he is a steal. It is likely that you will be drafting him as a backup up Quarterback, but if you are drafting him as your starter I suggest taking a young QB in the later rounds, Mariota, Winston, Bridgewater, or Carr for security.
The Eagles managed a combined 4,356 yards passing, 27 touchdowns, and 21 interceptions last year between Nick Foles, Mark Sanchez, and Matt Barkley. My prediction is that if Sam Bradford stays healthy he could reciprocate similar numbers, 4,200 yards passing, 28 touchdowns, and 18 interceptions, which in my opinion makes him a mid-level starting fantasy quarterback, comparable to Philip Rivers and Ryan Tannehill.