Should The Flyers Trade A Draft Pick To Move MacDonald?
|
When Ron Hextall took over for Paul Holmgren as general manager last May, he inherited an unbounded mess. The Flyers were handcuffed by several horrid contracts from the Holmgren tenure, the last of which was a 6 year, 30 million dollar extension for Andrew MacDonald. As Hextall began his tenure, the goals were clear. He had to emphasize building through the draft, acquire draft picks and free up some salary cap space to create flexibility going forward.
Hextall has succeeded in acquiring several draft picks already, including a valuable first round pick from the Tampa Bay Lightning. However, he has not yet done a lot to improve the Flyers' salary cap picture. So might it be worth sacrificing one of those assets in order to gain some flexibility in relation to the cap?
I will contend here that yes, the Flyers should explore the possibility of trading Tampa's first round draft pick alongside Andrew MacDonald so they can rid themselves of his contract. The team on the other side would send back something of little to moderate value in order to aqcuire MacDonald and the pick. MacDonald is not a terrible player, but he is a 3rd pairing defenseman on a horrifying contract that could haunt the Flyers for years to come. With the Flyers in a poor position cap-wise, the salary cap flexibility could provide more value to them than the late first round draft choice.
Let's start by examining the value of Tampa Bay's first round pick.
WHAT IS A DRAFT PICK WORTH?
It is important to consider here that all draft choices, including first rounders, are not created equal. Tampa Bay currently holds the 6th best record in hockey, meaning that the pick obtained by the Flyers will most likely occur late in the first round.
The chart below (via SportsNet.Ca) is an analysis of all players drafted from 1995 to 2007. The analysis looks to determine, based on draft position, the likelihood of a player succeeding as an NHL regular. Let's take a look.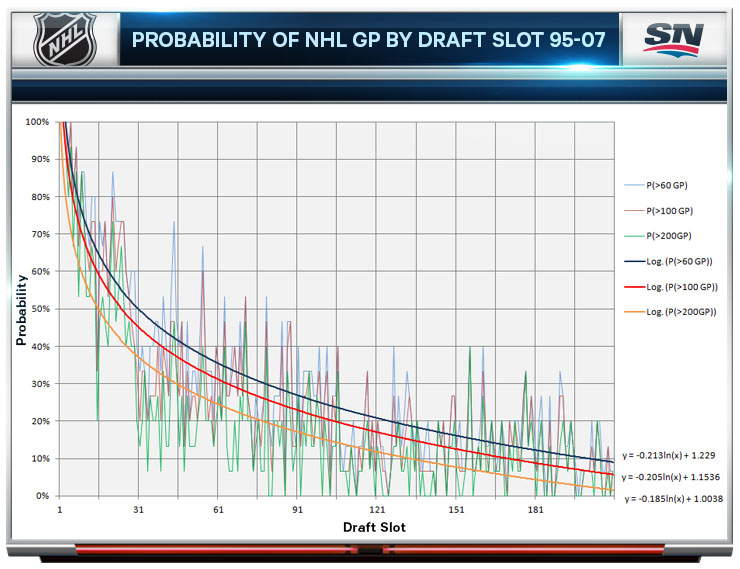 Based on this chart, a player chosen in the late first round has about a 55% chance of playing over 60 NHL games and about a 40% chance of playing over 200. The accompanying SportsNet article goes on to describe these draft picks as 'lottery tickets'. While there are always some studs chosen in the late first round, it is important to remember that these picks are a gamble. Outside of the first 5 choices or so, there aren't really any guarantees, even in the first round. In fact, a late first round pick is actually much closer in value to a third round pick than it is to an early first rounder.
Don't get me wrong, there is a lot of value in having these "lottery ticket" draft choices. The GM of a developing team like the Flyers should look to accumulate as many of them as possible in order to increase the chances that they can successfully build a team through the draft. Given the Flyers' salary cap circumstances, however, there might be more value in cap flexibility than there is in a draft choice that will fail to pan out more than 50% of the time.
THE VALUE IN CAP FLEXIBILITY
Last week, Stephane took a look at the Flyers' salary cap outlook for next season (SparkNotes: It is bad and not good). Including Chris Pronger's contract, the Flyers already have 67.8 million dollars committed against a cap that is projected to be at 71 million next fall. There really isn't any room to change the makeup of this year's team significantly.
The Flyers already have about 47 million committed to 7 forwards, 4 defensemen (including Pronger), and 1 goalie in 2016-17. While they will be able to shed a couple questionable contracts (L. Schenn, Grossmann), every penny of this money will be needed for extensions to Voracek (UFA), Raffl (UFA), Couturier (RFA) and Schenn (RFA).
Voracek will undoubtedly be expensive. Couturier should be prioritized and Schenn is definitely worth retaining on an RFA deal if possible. If Raffl is able to put together another productive season with stellar possession stats, letting him hit the UFA market would be playing with fire. Moving MacDonald would make it significantly easier to retain all of those players if they choose to.
Let's say (for the sake of argument) that the Flyers could retain all of those players without removing MacDonald's contract. Removing the contract would still free up an extra 25 million dollars over 5 years. Last summer, contracts with similar cap hits landed defensemen like Anton Stralman, Christian Erhoff and Matt Niskanen. I'm not saying that Hextall should create cap flexibility just to immediately lose it again, but under the right circumstances the Flyers could use newfound spending money to acquire a player who is much more valuable than a late first round pick.
IS MACDONALD TRADEABLE?
MacDonald's contract is very clearly not good. Even a team that doesn't make use of possession statistics should be able to tell simply by watching him play that he is not worth 30 million dollars. For a team like the Flyers that frequently spends to the cap, a contract like that can be devastating. For growing teams like Arizona, Buffalo and Carolina (lol) that are closer to the cap floor, acquiring an extra lottery ticket might just be worth the price of the bad contract.
In MacDonald, they would receive a veteran 3rd pairing defenseman who can take on a larger role if they need him to. He was a complete trainwreck playing top pairing minutes as an Islander for several years, but a diminished role in Philadelphia helped him manage his best season to date in terms of raw possession stats. If he is used properly, he could bring some value to a growing team.
For a team that usually spends low and is looking to build for the future, it would be difficult to say no to this deal if ownership gives it a green light. They would add both a solid draft pick and a defenseman who could contribute in a limited role while they build for the future.
Do I think a trade like this is likely? Probably not. The Flyers really do need to emphasize building through the draft. They already traded 2nd and 3rd round picks to acquire MacDonald and now they'd be trading a 1st rounder just to get rid of him.  It hurts to give up a significant draft pick just to get rid of a contract that could have easily been avoided with even somewhat competent talent evaluation. In theory, trading draft picks is the exact opposite of what the Flyers should be focused on right now. Unfortunately, that is the nature of the mess that was left behind by Paul Holmgren. It might take some sacrifices and some patience to clean it up.
It would be wise for Hextall to explore different ways to rid himself of MacDonald's contract. A move like this would make sense for all parties involved. The Flyers would still be left with a nice crop of draft picks for this summer, and it could create some extremely valuable salary cap space moving forward.